Back in September, 2017, when I shared on the blog that my husband was going to join me in early retirement, many of you asked about our health care insurance situation once he leaves his W2 employment. In this post, I'm sharing the process my family and I went through to get health care coverage for year 2018. 
The Perceived Obstacle to Our Early Retirement
The thought of having to pay the high cost of health insurance premium out-of-pocket (we were thinking about $1,000/month) was one of the biggest reasons my husband and I hesitated about retiring early. Early retirement conversations first came up between us around year 2012. Back then, the Affordable Care Act (ACA) was a mystery to us, and we were too lazy/busy to do more research.
I'm typically pretty resourceful and I'd search above and beyond to get the information I want. However, the following years continued to be big transition times for my family and I, and learning more about ACA was not on the priority list. So, as a couple, we reasoned (and made a compromise) that we'd have to work more years to save up for full, out-of-pocket health insurance premiums and retire when we reach our late 40s or early 50s. 
New Information Helped Made Early Retirement Possible for Us
And so that was the story until I learned about the Financial Independence and Early Retirement (FIRE) online community and read what some of the early retirees were already doing. I paid special attention to the health insurance information as that was the biggest obstacle between us and early retirement.
From what I've gathered, I learned that people can receive subsidies to pay for health care premiums through the healthcare market place. And the amount of subsidies individuals receive are based on income thresholds. Unless one has massive amounts of investments and/or residual/passive income sources (most of which count as qualifying incomes for this purpose), many early retirees can expect to receive some kind of subsidies through ACA.
My husband and I used this calculator to help us determine how much subsidies we'd receive based on a projected income number.
Thanks to the resourceful information shared by the FIRE community, suddenly, early retirement became a very close reality for my husband and I.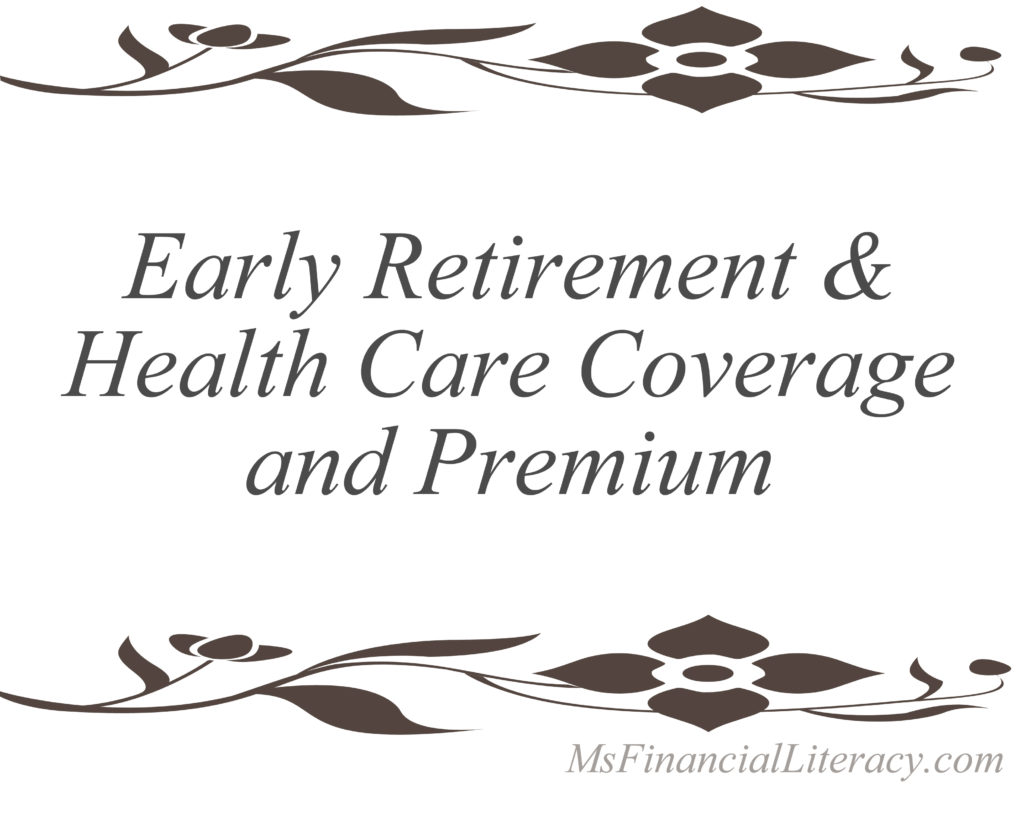 First Encounter with Healthcare.gov
Once my husband finalized his paperwork with his ex-employer, we visited Healthcare.gov (the official healthcare market place of ACA) to shop for health insurance coverage for the remaining of this calendar year. We quickly learned that we'd need to pay full premium for the months of November and December (our coverage through his ex-employer would end in October). Our total incomes for year 2017 were too high and passed the income threshold to receive subsidies.
For the three of us, we're currently paying $938. It's a pretty high painful number, though temporary. We chose a high deductible plan through BlueCross BlueShield. We started 2017 with a HSA, and needed a high deductible plan in order to continue funding the HSA for the remainder of the year. I plan to share more about our HSA experiences in a later post. 
The Application Process for Year 2018
The Enrollment Period for 2018 on Healthcare.gov started on November 1st and goes through December 15th, 2017. Once my husband and I completed our application on November 29th, we received immediate notice on the amount of subsidies we'd receive based on the projected incomes we reported. The notice also informed us that our daughter might qualify to enroll in the Children's Health Insurance Program and that an agency representative would be in contact with us. On that same day, we also looked through our health care plan options. We have until January 22nd, 2018 to select a plan.
Health Care Plan Options
Healthcare.gov or the Marketplace offers three 'metal' categories of health insurance plans: Bronze, Silver and Gold & Platinum. According to the website, these metal categories are based on how we and our plan split the costs of our health care, and have nothing to do with the quality of care.
The information below is taken from the website:
BRONZE
Lowest

monthly premium

Highest

costs when you need care

Good choice if:

You want a low-cost way to protect yourself from worst-case medical scenarios, like serious sickness or injury. Your monthly premium will be low, but you'll have to pay for most routine care yourself.
SILVER
Moderate

monthly premium

Moderate

costs when you need care
Good choice if:

You qualify for "extra savings" — or, if not, if you're willing to pay a slightly higher monthly premium than Bronze to have more of your routine care covered.
GOLD
High

monthly premium

Low

costs when you need care

Good choice if:

You're willing to pay more each month to have more costs covered when you get medical treatment. If you use a lot of care, a Gold plan could be a good value.
PLATINUM
Highest

monthly premium

Lowest

costs when you get care

Good choice if:

You usually use a lot of care and are willing to pay a high monthly premium, knowing nearly all other costs will be covered.
Based on the wordings above, the silver category would be the best option for us. This was pretty much in line with what we concluded when we looked at our health care plan options and details of benefits for each.
The Waiting Period
We received a letter from the Children's Health Insurance Program a week after we submitted the application. The letter indicated that we'd need to provide additional income/employment documents. A phone interview was also scheduled for us.
My husband called the agency on December 6th, 2017. While on the phone, the representative informed us that we had the option to create an Online user account and upload documents/files. The phone interview took about 1 hour, when the representative asked many questions regarding our household financial situation.
By the end of the business day, we received a status update on Ruby's health insurance. She got approved to enroll in the Children's Health Insurance Program, and my husband and I were denied. This whole process happened very quickly.
Our Health Insurance Coverage and Premium for Year 2018
On December 7th, 2017, my husband and I logged into healthcare.gov and the Children's Health Insurance Program (CHIP) making health plan selections. The process was very smooth on the healthcare.gov website, but much less so on the CHIP website.
The CHIP website easily allowed us to select a health plan for Ruby, but didn't allow us to select a provider at the time. We had to go with the option where a provider would be automatically selected for her. This is something we'll have to address later when Ruby needs health care. Just to be clear: we are allowed to pick a provider for Ruby through this program, but the web system was having issues generating a list of providers accepting new patients at the time.
As for my husband's and my health insurance, we'll be receiving a letter in the mail from the health plan letting us know how to go about paying for the premium. 
The projected numbers for year 2018:
Ruby's monthly health insurance premium: $35
Nina and Trip's monthly health insurance premium: $765 (full cost of premium) – $635 (subsidies we'd receive based on reported projected incomes for year 2018) = $130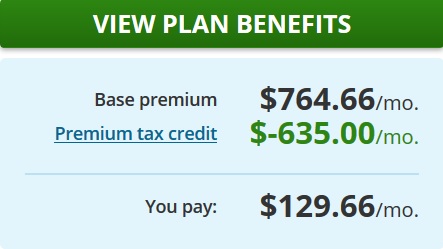 We expect our out-of-pocket monthly premium will be higher than $130 . We anticipate our incomes will be slightly higher than projected, however, we prefer to be on the conservative side and pay the difference toward the end of the year. We'll be paying attention to our incomes and make adjustments accordingly throughout the year.
We used this calculator to help us determine how much in incomes we'd ideally like to bring in for year 2018. By playing with different numbers, we've gathered which scenario(s) would work best for our family situation. With this being said, we're flexible. We won't be turning down certain incomes just so that we'd be able to keep our out-of-pocket premium low. At the same time, we'll be monitoring the numbers throughout the year as we make each (large) financial choice.
My Thoughts on Strategic Financial Planning
Some might say having to monitor financial numbers (we typically do this on a daily basis) can be a lot of work. Smart and savvy financial planning is work. In many instances, it's not so much about getting down to the precise numbers. Sometimes, all is needed is simply doing a little planning (e.g., having a financial roadmap) equipped with the correct knowledge/resources, and then check in with yourself (and other involved family members) monthly, quarterly, or yearly.
Strategic financial planning can still be overwhelming for me, if I allow the numbers to get to me. Each time when I feel the urge to get low, I just remind myself that I'm making progress and I'm doing the best I can with the knowledge and resources I have at the moment.
As I'm writing this, my family and I have health insurance coverage for year 2018. The whole process was pretty painless and took us less than a few hours from beginning to end. Healthcare.gov saved most of our family information when we applied back in October, and we didn't have to look it up. The representative who helped us with Ruby's application was competent. We also liked that we were able to upload documents Online and didn't have to submit them through the postal office.
Like what you've just read? I encourage you to subscribe to my free weekly newsletter that goes out every Monday to receive updates on new posts. Please share my blog and contents with your family and friends, too. Financial literacy is one of the best gifts you can give yourself and loved ones.
To sign up for my free weekly newsletter, use the newsletter button provided below or go to the website's sidebar.