My Transformative Moment
When was the last time you watched/read/heard something that instantaneously motivated you to radically change the way you live your life? This happened to me about three moments ago (June 2016) while doing some background research on the Internet for a project. I came upon statistics after statistics that basically summed up to the following:
"…two out of every three women say that they feel they have little knowledge of financial products and services.  These women are less able to plan for retirement, less able to save for their children's education, and are more likely to fall victim to deceptive, abusive, or predatory financial practices." 
"…As many as 8 in 10 [of women], according to Fidelity's 2015 Money Fit Women study—hold back when it's time to discuss money with friends and family. Many also feel uneasy or lack confidence when it comes to making big financial decisions, with about 50% admitting they are often nervous about the financial choices they make."
"Even though many women can understand the headlines of financial news and talk stocks at a dinner party, they're really not fluent on these topics, and they feel uneducated, disempowered and in a complete fog when it comes to their own relationship with money," Ms. Birgbauer said.   Many women simply don't know what questions to ask or where to begin."
"…less than half of respondents [both men and women study participants] correctly answered the question about interest rates and inflation and only one-third were able to correctly answer all three questions…while 55% of men correctly answered the two questions about interest rates and inflation, only 38% of women did so. Moreover, while 38% of men correctly answered all three questions, only 22% of women did so…Women are much more likely than men to indicate that they do not know the answer to the questions. The proportion of "do not know" responses was particularly high on the risk diversification question; as many as 41% of women indicated that they did not know whether a single company stock is riskier than a stock mutual fund. Moreover, half of women gave at least one "do not know" response to the three financial literacy questions. Very similar differences in financial literacy between men and women have been found in the Netherlands, Germany, Sweden, New Zealand, Italy, Japan, Australia, France, and Switzerland". Read more about the research here.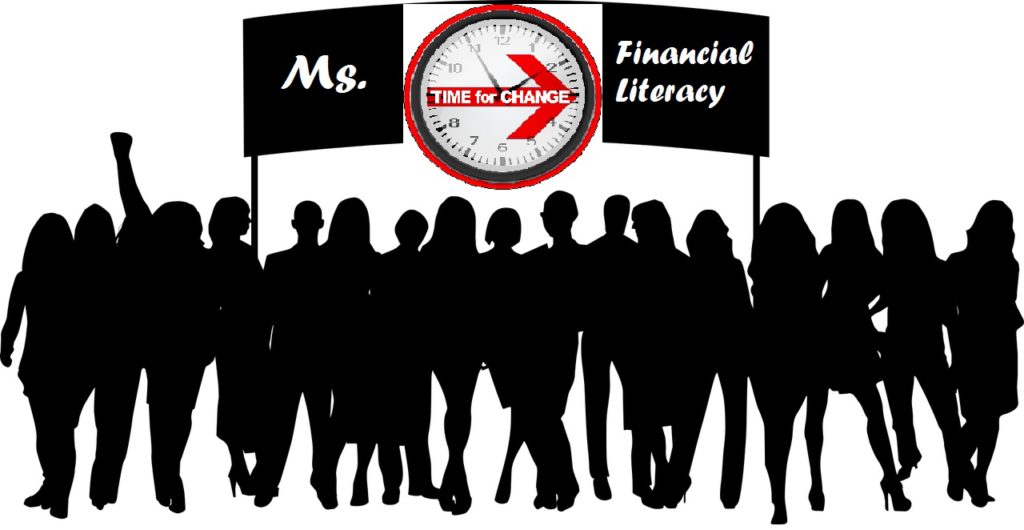 The statistics were so novel, yet shockingly alarming to me and stirred up unsettling emotions from within. I felt this strong need to literally rewrite those numbers and statements that appeared in the articles. Prior to that moment I was simply oblivious about research on women and financial literacy and women's financial well-being. I had read that women get less pay than men, but I didn't feel the urge to bring about social change; yet, for some reason, at that particular moment I took matter to a much more personal level as I was staring at those articles. Those numbers and statements touched something deep inside me, and I felt uncomfortable and vulnerable. I also sensed this urgency to take action and not have myself fit into any of those statistics and statements aforementioned (At the time my husband was managing most of the family's finances. What happens if my family's situation changes?). From that moment on I became personally invested fighting those stereotypes, hoping to steer the statistics and statements about women toward a much more positive light in the near future.
For the first time in my life I have a cause to fight for. I'm not a certified financial planner/advisor nor a certified financial analyst nor an economist nor a CPA nor an accountant. I'm not a finance professional through formal education. I'm a woman who believes and takes pride in a sense of freedom, satisfaction, fulfillment and empowerment that I get from being financially competent and being conscious managing my family's money.
As I'm writing this post almost three months have passed since that transformative moment. In this short period of time I've learned so much about the financial language, on financial planning and investment (I've also came to learn my husband has much to learn, too).
Simply just learning about the financial language has been fun and empowering (recharacterization, global asset allocation, Roth conversation ladder, anyone?). We recently visited our Brokerage office and spoke with an investment advisor. I was so proud of myself when we left the office. I asked smart and relevant questions. I participated in the conversation. The old me would have just sat there and listened diligently and let my husband handle all the decisions/lead the discussion. It was an empowering moment for me.
Applying the newly acquired knowledge I recently learned and having shared them with my husband, we recently reassessed our investment tactics and strategies and restructured our investment portfolio getting our money to work harder for us. We also took additional actions to further protect our assets. We were doing well, and now we feel even more confident building an investment portfolio that better fits our investment styles and meets our financial goals.
For me, my journey has been follows:
Step 1. Becoming aware of my relationship with money and identifying life and financial goals for myself and my family. I highly recommend the following two books if you are interested in going through this process: (1) Your Money or Your Life, and (2) The Millionaire Next Door.
Step 2. Having the desire and motivation to transform my old mindset and behaviors regarding money as to improve my financial situations and quality of life.
Step 3. Seeking resources to help achieve life and financial goals, whether that's reading books on personal development and/or personal finance, listening to personal finance podcasts, chatting and sharing stories with like-minded individuals, reading personal finance blogs, attending personal finance classes, seminars, workshops or conferences. I do all the above. 
Step 4. Identifying support networks and participating in communities of like-minded individuals. These networks and communities can be physical (e.g., one's family members and friends, people you meet at workshops, seminars or conferences) or virtual (e.g., commenting and sharing on social media platforms).
Step 5. Practicing affirmation. With all the newly acquired knowledge and resources at hand the last step involves taking actions (e.g., doing whatever one needs to do to build wealth). If the homework has been done (what one needs to do is case by case), typically we can expect positive outcomes. The thing about positive outcomes is that they boost our self-confidence and give us a sense of empowerment and satisfaction, which in turn, reaffirm the purpose of our hard work and dedication toward our life and financial goals.
In the realm of personal finance and financial planning there's so much to learn, and I've been obsessed. And the best part? My family and I've everything to gain. We can actually see immediate results as we examine our financial situations each day. I firmly believe that knowledge is power. With knowledge, only then we can begin to tap into resources and find out what's financially possible for our unique situations. From there, we learn and implement strategies that have been proven to work, which in turn, should make us feel empowered and fulfilled.
The Movement
Currently, there are movements encouraging girls and women to study math, engineering and technology. This blog's mission is to build upon a movement for girls and women, too. The movement is to encourage and empower girls and women to become fluent with the financial language and thus, begin taking charge/more charge of our finances.
I'm fortunate I have a partner who not only is very knowledgeable about managing our finances, he is also passionate about teaching me personal finance and gently nudges me to get involved with our family's finances. Sometimes I do wonder what my relationship with money and money management would be like if I'm still single. What would my financial literacy level be at now? How would I have managed my finances differently? What if I had married a partner who has no or very little interest in personal finance? What if there comes a time when my husband can no longer manage our finances?
Then, I started thinking about other women and what their financial situations might be like. If what the aforementioned research findings are true in general about women across the globe, how many women would be feeling helpless when it comes to managing and growing their wealth?
Even despite my advantages, I still felt overwhelmed and lacked self-confidence when financial making decisions were involved. The more I started thinking about what financial literacy means to me and what being financially literate has done and can do for me, I felt this strong urge to further invest on my personal growth and share my journey with other girls and women.
During the past eight years with my husband and having learned about budgeting and investments, I have realized that being financially literate is empowering. I feel great knowing what to do with my money, the options I have and the risks and rewards that come with each decisions. I feel good when I walk inside a financial institution and pretty much know exactly what I am looking for. I feel secure knowing that I have done everything I can to the best of my knowledge to protect myself, my family and the legacy my husband and I have built together. I feel empowered knowing that there's no one magic formula to financial security, but that I have it within my power to direct my financial life and achieve goals. I hope you will join me in this mission and spread the words.
My Goals with Ms. Financial Literacy
I am here to encourage you, my readers and peers, to start paying attention to your money and learn as much you can about aspects of personal finance that are relevant and applicable to your life. There are many aspects to financial planning.
Have you ever considered your work compensation package or tax planning strategies as part of financial planning? What about protecting your love ones and your assets? Just to list a few. From there, diligently and consciously consider how you can apply the newly acquired knowledge, skills and wisdom to improve your financial life. Find out what's financially possible for you. Then, begin implementing what you've learned with your money, with the goal toward wealth building and becoming financially independent. We all make mistakes along the way.
As the authors of "Your Money or Your Life" pointed out, a useful mantra to follow throughout one's financial journey is "No shame, no blame." Just remind yourself that you are doing the best you can with the resources available to you at the time. Don't wait until you have debt to begin paying attention to your money. Your money is something you can master and control at any time.
The range of topics I cover on this blog will be relevant for those who are starting their careers, those who are working toward financial independence, those who are planning for retirement and everyone in between. I recently joined the 3-0 decade. The process of understanding and negotiating the employee compensation package is still fresh in my head. At the same time, my husband and I have also been learning and implementing strategies that will allow us to become financially independent and retiring early. Often times I feel like we are in the middle of everything at this point in our lives:
Focusing on increasing income

Minimizing tax

Lowering expenses

Protecting assets

Planning for retirement (the years before age 59 and those afterward)

Estate planning

Maximizing employee benefits

Raising a child

Working toward financial independence

Finding ways to make money work harder

Being in the sandwich-generation
What Inspired the Blog Name
With each blog post, I write I will keep my daughter in mind, being mindful of the messages and wisdom I want to instill in her with regard to her life and money. In fact, my daughter inspired the name for this blog. Some mothers may take much pride when their daughters win beauty/pageant contests or become the next Ms. America or Ms. Universe.
As a mother, I also want my daughter to be a champion—a champion in financial literacy and managing her personal finances! Just like those mothers who diligently spend years prepping their daughters for the glorious beauty contests, I've made a commitment to my daughter encouraging, inspiring and empowering her to seek financial clarity, financial wisdom and financial confidence.
I'm fulfilling this commitment by holding myself accountable as I take proactive measures to become fluent with the financial language and consciously apply the learned knowledge, skills and wisdom building and managing my family's wealth.
In the process doing so, I want a platform for documenting my financial journey and sharing this journey with other "daughters and women" around the globe. And the name and tagline for this blog was born. Welcome to Ms. Financial Literacy!
A Brief Version of My Financial Story
My family and I immigrated to the U.S. when I was 10 years old. As my family was resettling in the U.S. I was put in charge taking care of the family's weekly grocery shopping. My dad gave me $30 (year 1996) every Saturday and I was supposed to figure out how to frugally spend that $30 and put enough food on the table. It was the first time I handled money. I didn't have allowance while growing up. I didn't know anything about bank accounts or credit cards.
My parents didn't teach me anything about money. They only had one saving account while they were living in China. One skill I possessed at the time that helped me be a smart shopper was that I was very good with numbers. While walking up and down the streets of Chinatown in San Francisco I instinctively knew to shop items selling at the lowest prices, while getting the highest quality and nutritional values. Despite being a smart shopper, my family and I were hungry throughout the day. I am thankful for the free school lunches. Despite their poor nutritional values, my tummy was happy and I was able to focus on my study.
As soon I started schooling in the U.S., I knew I wanted to attend college. While growing up in China, no one ever asked me what I wanted to be when I grow up. My family was definitely above middle income in the area where I was born. However, those kinds of conversations were not the norm there, especially directed towards a little girl. I wanted to graduate from college, have a good career and have my parents live more comfortably. I accidentally learned about scholarships when I was a freshman in high school. The classroom where I had my first class of the day was a homeroom for a class of seniors. Once in a while there would be bulletins laying on the desks that I would read as I waited for class to begin. The word "Scholarship" always caught my eyes.
Thanks to the recommendations from my high school counselor and teachers, I finished my undergraduate degree debt free, with almost $10,000 in my saving account. While in college I did a lot of number crunching in my head (my way of mental budgeting) to the point where I calculated down to the quarter how much I spent per meal. I was extremely frugal. Beyond a digital camera and a laptop computer, in addition to the necessities, I didn't purchase much else. Post undergraduate, I went on to pursue a Ph.D in child and family development. Again, I was fortunate that I secured fellowships that supported my graduate study. By the time I received my Ph.D, I had $20,000 plus net worth.
When I met my now husband, I was in graduate school and had one checking and saving account, and a credit card. By then, my husband was already several years into his full-time job and owned a 401(k), Roth IRA, pension, brokerage account and a condo (which he fully paid for in 2007). I, on the other hand, was clueless, yet very skeptical about the stock market (thanks to the social medial at the time).
In 2009, he convinced me to fund my 2008 and 2009 Roth contributions (in a future post I'll share why and how I changed my view about the stock market). The stock market was very exciting at the time. My eyes were glued to Yahoo Finance several hours a day. For several years, my Roth was up an average of over 10% yearly return (and much more in the early years).
After having been with my husband  for over a year, I was convinced that he was a very smart investor and very wise with money. I was even more impressed that he was self-taught on personal finance and investment. When we got married and combined our finances, I was glad to let him take on the financial aspects of our household responsibilities. He liked finances and he was good at it. He was always very diligent coming to me and keeping me informed about our financial situations and seeking my opinions on investment options. I usually gave him the approval without having given much thought. I trusted him and his judgments. I've never questioned his financial choices. I continued learning from him about personal finance and investment here and there, however, managing our finances was not my cup of tea. My forte was browsing through Amazon.com or Target.com keeping inventory of stuff for the household, looking at Pinterest for meal planning and perusing the Internet looking for child development resources raising our daughter. When my transformative moment happened, my family's familiar routine got disrupted for the better.
It is through my own journey pursuing financial clarity, financial wisdom and financial confidence that I hope to inspire, empower and encourage you to take charge of your finances. I invite you to join me on this financial journey learning the financial language, find out what's financially possible for you and become financially competent as you pursue your life and financial goals. Looking forward to connecting with you on Twitter and Facebook soon!
What's your financial journey like?
How has it been?
What financial goals are you currently pursuing?