You can go here to read about why we're sharing our non-W2 incomes on the blog. And you can visit this link to see our past non-W2 income reports.
As anticipated, March was a very great month for us. We received a total of $5,249.31 in non-W2 income. Our international stocks (many of which pay out dividends in larger amounts once a quarter) were responsible for the big jump.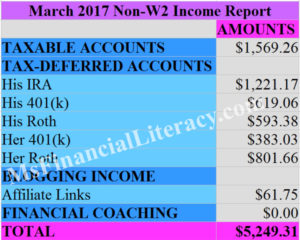 This month's number plus the January 2017 and February 2017 numbers have brought our first quarter non-W2 income total to $8,906.89. The monthly average is $2,968.96. With our monthly expenses being around $4,000, this monthly average covers about 74% of our expenses.
We anticipate this percentage will be a little higher by the end of the calendar year. Some of our investments have large dividends/interest payouts bi-annually or annually. Additionally, we continue to make new contributions to most of our accounts. We'll see as we continue to track these numbers.
April's chart will look slightly different as I recently did a 401(k) rollover.
We use Personal Capital, a free financial tool, to track our net worth, view our investment performance, analyze our asset allocations and project our retirement goals. I wrote a comprehensive review of Personal Capital in another post. I encourage you to check it out.
Like what you've just read? Sign up for my free weekly newsletter to receive new post updates. Posts have been very sparse lately as my family and I are adjusting to a new lifestyle. I hope to resume posting two to three times weekly starting in May. In the meantime, feel free to connect with me on Twitter or Facebook. As always, thanks for reading.