One way to save money while shopping online is to start on a cashback site. You are going to make the purchases anyway, why not get a little something back at the same time? These types of sites develop relationships with retailers and get paid to refer customers (they earn a small commission of each purchase you make when you use their direct link to visit a merchant). The sites then share a portion of their referral revenue with you.
In some cases, you might earn a bonus (such as $5 or $10) just for signing up and making a qualifying purchase. You can also apply coupons displayed on the merchants' websites ON TOP OF the cash back to stack your savings! If you happen to shop during the holidays, lookout for retailers that offer double or triple cash back. Sometimes the cashback amount can be up to 10%. To me, that's a very great deal. It's like saving on taxes and some more while shopping through these cashback sites.
How Cashback Programs Work
Rather than going directly to a retailer's website, you would first log in to your preferred cashback site, search for the store you want to shop at (if the store is a participating merchant, you'd see the amount of cash back being displayed), click on a link that would take you to that merchant's site (your click-through from the cashback site activates a code in the merchant's shopping cart that will make sure that you are credited with the cash back), and then complete your shopping as usual. After the cashback site verifies your transaction, the earnings get approved (cash back typically show up in your account within few days). This earning is based on the dollar amount of your purchase and the cashback offer at the time of purchase.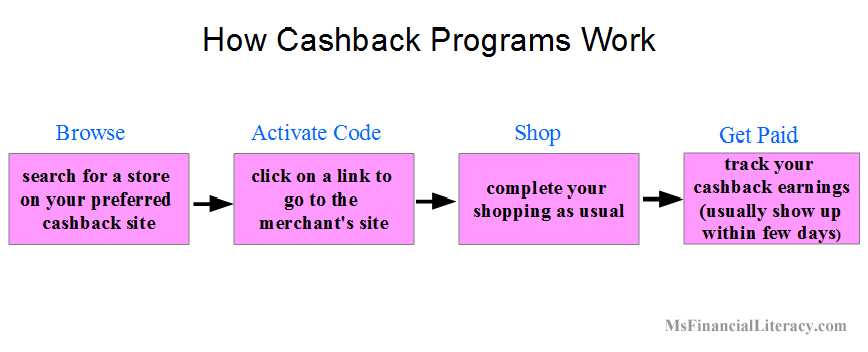 My Experience with Cashback Programs
Cashback shopping sites are the real deal. I've been a user of several programs since 2010. But with so many sites out there, which one should you use? Which one works best for you? I've extensively researched on six (Ebates, Mr. Rebates, TopCashback, ShopAtHome, Extrabux and BeFrugal), and tried them all over the years. My suggestion is to sign up for one or two programs and just stick with those. This way, you can build up your cashback and get the payouts. Spreading yourself too thin and you might never accrue enough to cash out.
**Disclaimer: This post contains affiliate links, which means that if you click on one of the product links and sign up for an account using my referral ID, I"ll receive the referral bonus. Thank you for helping keep this site running.**
I highly recommend Ebates and Mr. Rebates. In terms of overall experience, I'm confident no one beats these two. Other programs might claim to offer higher cashback rates or provide better customer service, but their cash out threshold is relatively high and/or they make it difficult to get referral bonus.
What do I like about Ebates and Mr. Rebates?
strong social media presence (reputation and good customer service is important)

huge number of participating merchants, including all of my favorites

competitive cashback rates

reasonable cash out thresholds

attractive sign-up bonus

great referral programs

they pay as promised
Both programs are free and easy to join. Rotate between the two depending on which one offers the best cashback rate on the retailers you shop at.
Ebates
Ebates is the most popular cashback program. It's also the first one I joined back in 2010. With Ebates, not only are you getting cash back, the site gives you access to store discounts, special promotional codes, shopping coupons, and special merchant deals. If you are looking for a coupon code to stack your savings, Ebates is generally very good at updating you with the most current coupon codes. Most cash back rewards are credited within 48 hours. In terms of user interface, the website is very easy to use and quite intuitive.
Account Features:
Ways to Join: Use your existing Facebook or Google account or with an existing email and password.
Number of Merchants: 2000+ stores with cash back, including many of my favorite stores (such as J Crew, Banana Republic, Gap, Stride Ride and Nordstrom).
Favorite Site Features: Double Cash Back Stores, Daily Hot Deals, In-Store Cash Back
Cashback Amount: You can earn up to 40% cash back when shopping at your favorite stores, though the average earnings are usually closer to 5%.
Sign-up Bonus: When you make your first qualifying purchase, the site will credit your account an additional $10. You can use my referral link here.
Refer-a-Friend: Each person you refer gets you $5 (order(s) must total a minimum of $25). It's a nice, quick way to earn a few extra dollars.
Cash Out Threshold and Payout Methods: Only $5.01 minimum payment threshold. You have the options to receive the cash back via a check in the mail, a Paypal deposit, or a gift to a charity or family member. Ebates takes care of mailing/sender' fees. Bonus Rewards do not count toward the $5.01 minimum.
Payout Schedule: Every 3 months, Ebates sends you a cash back payment for purchases posted during the previous quarter. Your earnings over a three-month period are accrued. If they meet the minimum amount, you get a payout. If they don't, you'd have to wait for another three months.
Email Subscriptions: Under Account settings, you can opt in or opt out on all email subscriptions. You also have the option to only receive their Double Cash Back Store Alerts.
Returns or Cancel Orders: When you return or cancel an item, Ebates reverses any cash back earned from that sale. Exchanges also usually reverse cash back awards. To avoid losing cash back on an exchange, return the merchandise and make a new transaction via Ebates again.
Living Outside the US and Canada: You can use Ebates as long as the store you are purchasing from will ship outside of the U.S. and Canada. All cash back payments are made in the available currency(ies) of your selected payment method.
Mobile App: Available on iOS and Android.
*********************************************************************************************************
Currently, Ebates is offering a $10 sign-up bonus + $75 cash bonus for referring 3 friends! You earn $25 for each referral with the special Tell-A-Friend promotion good through December 31, 2016. In order to earn your $10 cash bonus, you must spend $25 or more at your favorite store through their shopping network.
*********************************************************************************************************
Mr. Rebates
Mr. Rebates has been around since 2002. They do not have as many stores as Ebates but this site tends to pay a little bit higher percentage on the stores they do carry. Once a qualifying purchase is approved, you will automatically earn cash back to your account within 1- 3 business days. Your cash back must remain in your account for 3 months (so people don't cheat and return the products), then you can cash out your payouts via a mailed check or Paypal.
Account Features:
Ways to Join: Mr. Rebates asks for an email address, password and an address (so they can send your cash payouts).
Number of Merchants and Favorite Site Features: Over 2,400 online cash back stores to choose with weekly deals (this section features incentives like free shipping and discounts), store of the week (this section offers a temporary increase in the cash back percentage) and seasonal extra cash back. My favorite is their "store of the week" deal. Sometimes the cashback percentage is crazy high.
Cashback Amount: You can earn up to 30% cash back when shopping at your favorite stores, though the average earnings are usually closer to 5%.
Sign-up Bonus: You get a $5 bonus after your first purchase via a referral link. You can use my referral link here.
Refer-a-Friend: Mr. Rebates provides many different ways to help you get referrals, including Facebook, Twitter, email, links/banners or flyers. Each time the referral "friend" makes a purchase, you will receive cash back bonus equal to 20% of their rebate (bonus just keeps coming in every time your referrals make a purchase). As an example, when your referral friend earns $10 on her cashback rebate, 20% of that $10 gets credited to your account (which is $2 for doing no extra work). Your bonus does not affect your referrals' rebates in any way. That is, your "friend" still gets $10.
Cash Out Threshold and Payout Methods: Only $10 minimum payment threshold via Paypal or by check. You have to request the payout. The system will not automatically send you the money. Mr. Rebates takes care of the mailing/sender's fees.
Payout Schedule: All payments are sent at the beginning of each month for the previous month's payment requests. For example, payment requests made from September 1-30 will be processed on the first business day of October.
Returns or Cancel Orders: The policies are generally the same as Ebates. Once again, when making changes to an order, I recommend you either cancel or return your original order and re-order through Mr. Rebates (if the rebate is important to you).
Mobile App: No
Some Last Remarks
Each order from a participating merchant requires a unique click-through from a preferred cashback site.  If you are making multiple orders, make sure you have a separate store click for each corresponding order.

Don't let your cash back membership become the reason for shopping. Some of the deals can be tempting. I suggest you change your profile preference and opt out on receiving marketing emails as soon your account is created. This way, these cashback sites are at your service only when you need them. I use a different email address for all of my online shopping, including these types of accounts. This keeps my personal inbox from getting flooded with the offers from retailers.
Ready to get some money back on items you'll be purchasing anyway? Even it is few percent here and there, the money does add up. Use my referral links (Ebates and Mr. Rebates) to join and receive your sign-up bonus. Then, share your referral link with friends and family to start earning referral bonuses. It's a win-win for you and I.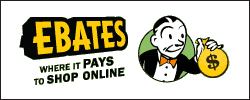 **Disclaimer: This post contains affiliate links, which means that if you click on one of the product links and sign up for an account using my referral ID, I"ll receive the referral bonus. Thank you for helping keep this site running.**