Happy 2018, readers. I hope you're having a beautiful start to the new year.
This time of the year is magical for me. I enjoyed sharing extra special moments with families and friends, combined with delicious, comfort food (for weeks in a row). I also loved the holiday decors both at home and while being out and about. These moments can really be savored all year long. Sleeping until 9 a.m. has been typical for my family and I this past week as our bodies recovered from all the festivities.
Finishing the Old and Starting the New
As of yesterday, we've taken care most of our financial matters for year 2017, with the exception of paying property taxes and filing for tax return. We made purchases in my i401k account, rebalanced our investment portfolio, updated our financial accounts and made a projected budget for this year. So far, the two biggest, one-time expenses we're looking at are money going toward paying for two international trips. Other than the usual recurring basic expenses, we also have several home renovation projects we want to accomplish.
December 2017 Non-W2 Incomes Report
This past December marked a full year since my husband and I tracked our non-W2 incomes. Our first post on this series was on incomes from December 2016, which you can read about here.  Through that link, you can also learn about why we decided to share these numbers on the blog.
When we tracked our numbers from December 2016, we were happily surprised with what we saw. From experience, my husband informed me that December is usually a good month for dividend and interest payments. However, I didn't expect those numbers to have summed up so high.
At the same time, I didn't take any of that money for granted. From a first-person experience, I have seen the number of hours my husband has been putting into learning about personal finances and investing from the first day we met. If you've been following our story, in addition to being diligent investing our savings over many years, you'd also know that we've been aggressive savers (in ways that didn't compromise our quality of life).
One of the biggest things I've came to learn about money through my husband and reading is that a steady way to building wealth involves doing/taking a combination of actions. Sometimes, it's not just about having a high income; sometimes it's not just about having a high savings rate; or being a good investor; or luck. Much of the time (and for most of us), our financial plans and actions generally need to align with each other if we want to accomplish big financial goals.
With those words, below is our December 2017 report: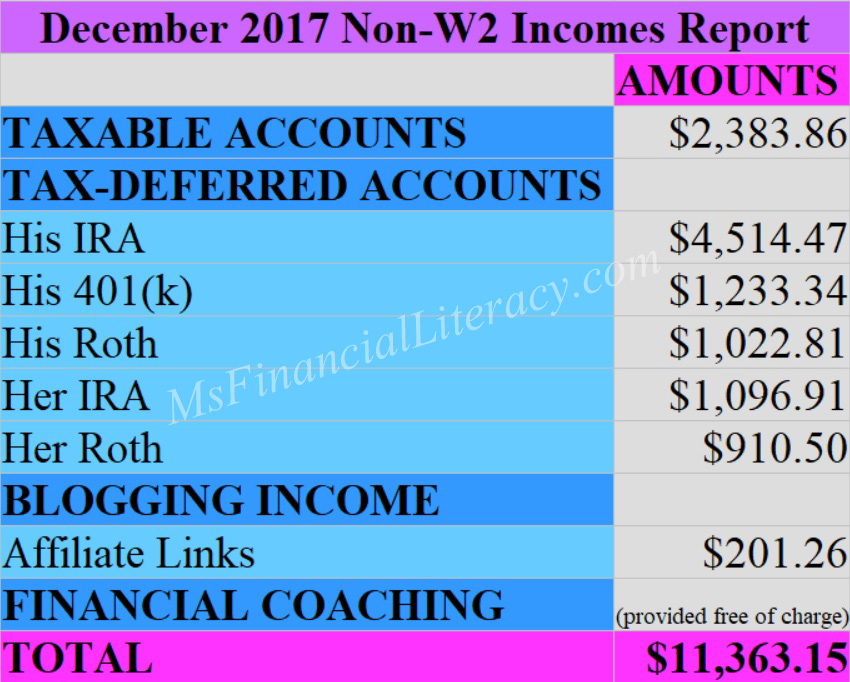 The December 2017 total was about 60% more than the December 2016 total. It was amazing what one additional year of savings and investing did to our dividends and interest payments.
To satisfy my curiosity, I summed the full year non-W2 incomes. The average was $3,972 per month. You can view all our past income reports following this link. According to the projected expenses I listed on a previous post, this average income number exceeded the expenses number.
Even if we were to increase our expenses to $60,000 a year (which would be a luxurious lifestyle for my family and I; I wrote about that here), we might not have to dip into our savings/investments at all. My husband managed to grow his clientele to 9 in four months. He has been enjoying every moment of those financial coaching sessions. We're very confident that we'll be attracting more clients over the course of the year.
In our book (along with many early retirees), not having to dip into savings/investments (though we're very open to doing so if we choose to; you can read my post on the 4% Withdrawal Rule here) during retirement is the best kind of retirement. This is especially important during the early years, giving our investments more time to grow.
We use Personal Capital, a free financial tool, to track our net worth, view our investment performance, analyze our asset allocations and project and reevaluate our retirement goals. I wrote a comprehensive review of Personal Capital in another post. I encourage you to check it out.
This is my family's financial story for year 2017. Meanwhile, we're working toward designing the life we want for year 2018 and beyond. I'd love to hear what your financial goals are in the new year and how you plan to achieve those goals.
Like what you've just read? I encourage you to subscribe to my free weekly newsletter that goes out every Monday to receive updates on new posts. Please share my blog and contents with your family and friends, too. Financial literacy is one of the best gifts you can give yourself and loved ones.
To sign up for my free weekly newsletter, use the newsletter button provided below or go to the website's sidebar.